Well, I was away from my PC all day on Sunday - we went to Amsterdam for the day. Our game plan was to wander about in the Jordaan (really pretty - see pic) and then to go hit the bookshops in town.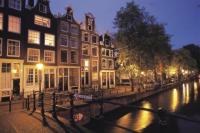 But its Amsterdam, and whenever I go there its always cold, windy and raining....it is on the coast of the North sea, so what can you expect. We were lucky on Sunday - mostly dry, though still bloody cold - we only had to cower in a doorway hiding from a rain shower twice. It was fun though - we spent an enormous amount of time trying to find an open hof to goggle at - not that easy though. Hofs are a kind of closed courtyard with an entrance from the street and then a tiled corridor leading into the garden. Most people in Amsterdam are very pleased to get a garden, so they lock the hof, and only people who live there can get in. We did find one finally and I snaffled some pics from the internet - see the attachments.
I always wanted to make something like this in sims but courtyards are always hard to do.
And then on to the bookshops - Waterstones and the American Book Shop were the shops of choice. I did buy one book and spent like an hour staring at another which I decided not to buy as it was forty euros.
Purchased book: Nick Hornby's "Juliet, Naked" (Once I have finished that I will do a review on it over in the
bookcase
)
Wished for book: Shirley Jackson's Collected Works
Hey, Christmas is coming - I should set up my Amazon wishlist.
The site don't jive?

PRESS F5