(WIP) Give Me My Privacy: Higher Shrubbery Fences


Hi guys!
After hours of blood, sweat and tears...I managed to get my first successful object in game. It's a simple set of taller shrubbery fences: one of 1.5 the height of the original EA High Shrubbery fence and another twice as tall.
I made these for my celebrity/rich sims' houses because I always complained that the EA shrubberies were just too short to offer any poolside privacy. And sometimes, houses just don't look good with big wooden privacy fences.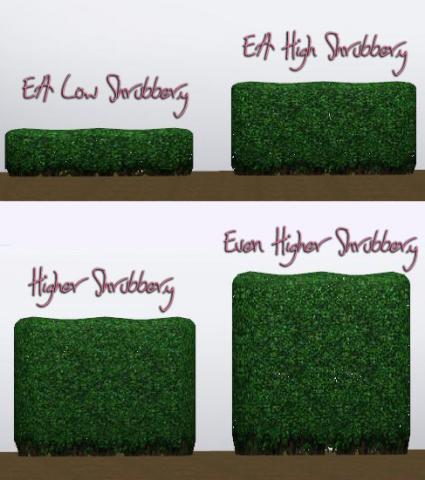 The objects have an enhanced leafy texture that makes the fences look a lot better, IMO. The EA texture looked like Styrofoam to me.
Also to match my new fences, I made default replacements textures of the EA Low Shrubbery and High Shrubbery fences.
Prepare for creator babble....
These fences are not the final version, so to speak. They're just the first stop to excellence!

The thing is, I cloned the fences from the original EA Shrubbery fences which happen to be non-recolorable. This means my taller versions are non recolorable as well. It's not too much of a problem because you didn't have the option with the original TS3 versions anyways.
HOWEVER, a wise fish told me that just because EA failed to deliver doesn't mean I should, too. So I've been actively working on not only getting my new fences to recolor, but default replace the EA ones to get them to recolor as well.

So in short, maybe one day I'll get these damn fences recolorable!
Until then, I hope you can make some use of these "Beta" fences.
Filesize 161.68 KB | File Name Give-Me-My-Privacy-Shrubbery.rar | # of Downloads 3,246
---
Filesize 7.32 KB | File Name Give-Me-My-Privacy-Shrubbery-DEFAULT-REPLACEMENTS.rar | # of Downloads 1,007
---
Comments
Wow. Just last night I was trying to figure out if a cheat code existed so I could put the shorter shrubbery on top of the taller. Didn't have any success..
So THANK YOU!!



Also, downloaded quite a bit from here, thanks a bunch for all your hard work and generosity!!