Just a Splash of Colour

Lot size: 20x50 – Price: §105,789 – Download size: 1.16MB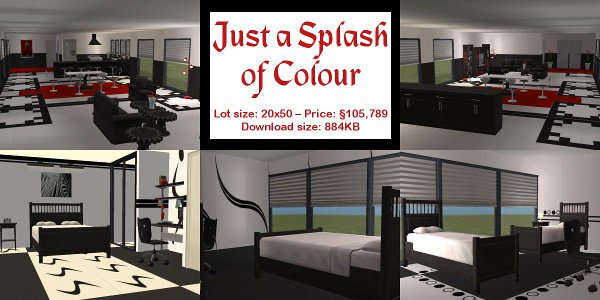 Custom Content thanks to Ailias, HugeLunatic, leesester, moune999, ShanOw and TheNinthWave.
Ailias
Edge Smoothers Set
HugeLunatic
Backless Tub/Shower Pets
White Bath Recolor
leesester
The "Function of Plate Glass" Window remeshed
moune999
Maxis add-on: New 'Function of Plate Glass' windows and doors
ShanOw
3 LG TV's + Table Any Surface TV Included.
TheNinthWave
Fitted Closed Venetian Blinds (One Mesh fits ANY window)
Sims 3 Standing Stereo For Sims 2
I have all EP's, SP's and the CEP.
Enjoy, have fun!
Filesize 1.16 MB | File Name Just a Splash of Colour.zip | # of Downloads 126
---