Artisans Quarter Recolours

This is for BoilingOil.
3 Recolours of the Windows, Doors, Arches, Column and Fences.
Many thanks to
Kate
from
Parsimonious.
Meshes not included.
ETA: As Kate's new site is not fully functioning at the moment I am temporarily including the MESHES, as soon as the build items have been added to Parsimonious I will remove the MESHES and fix the link.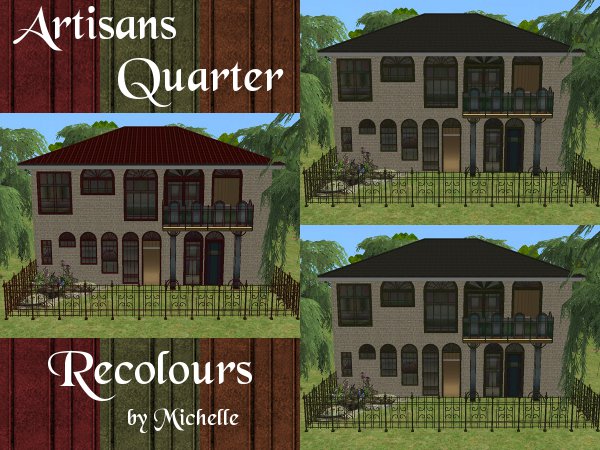 Red - Green - Brown
I have all EP's, SP's and the
CEP
.
Enjoy, have fun!
Filesize 305.16 KB | File Name Artisans-Quarter-Recolour-Red-ByMichelle.zip | # of Downloads 139
---
Filesize 321.74 KB | File Name Artisans-Quarter-Recolour-Green-ByMichelle.zip | # of Downloads 140
---
Filesize 315.44 KB | File Name Artisans-Quarter-Recolour-Brown-ByMichelle.zip | # of Downloads 136
---
Filesize 1.03 MB | File Name k8-ArtisansQuarters-MESHES.zip | # of Downloads 27
---