Glamour Life Arches

I made the windows....I made the doors - I thought I should do the arches as well. One of my favourite doors and window sets from the Glamour Life EP.
Its a double arch and an arch centred on two tiles.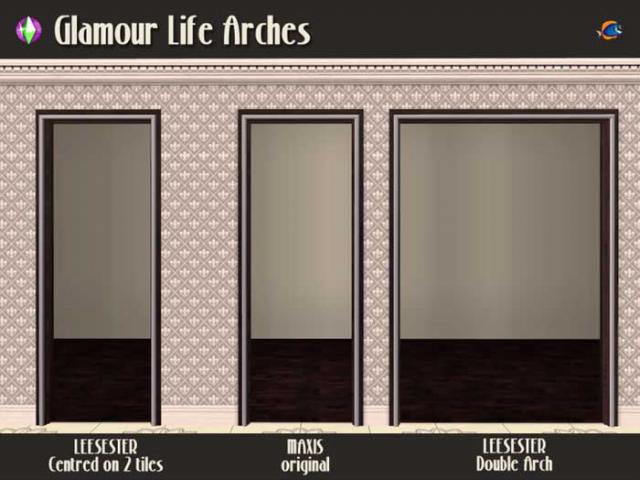 Polys
220

Price
Centred 255 simoleons
Double 300 simoleons
Recolours
Repository textures, so all the original textures plus any recolours of the original door that you may have.
Filesize 33.18 KB | File Name GlamourArches.rar | # of Downloads 2,026
---
Comments
Ok, super weird. There is no reason for the doors to flash blue then. They are base doors with a Glamour Life repository texture. I will look DEEEEEEP in the files and see - is it the WHOLE door and frame that flashes or just the shadow or something like that?
I haven't tried it in a house with sims, but when building, they look blue in the cataloge, and blue all over when placed. I'll check them in an occupied house if you like.
I'll mark this thread and return here for updates, rather than discussing in both threads at once now. And I'm Aelflaed over at MTS, to make things a bit more friendly.

Leesester, I think it's me.
Now the master door has disappeared (it was there last night!), and I can't find any of the other stuffpack (GL, or Ikea) furniture either. The clothes seem to be there. I had trouble with another stuffpack which I fixed yesterday, and I think I may need to reinstall completely - all the stuffpacks seem to be going odd.

So you can probably assume it's nothing wrong with your work after all. I'll post again if I get the game working properly and still find a problem with the doors.