Weddings! TS3 style.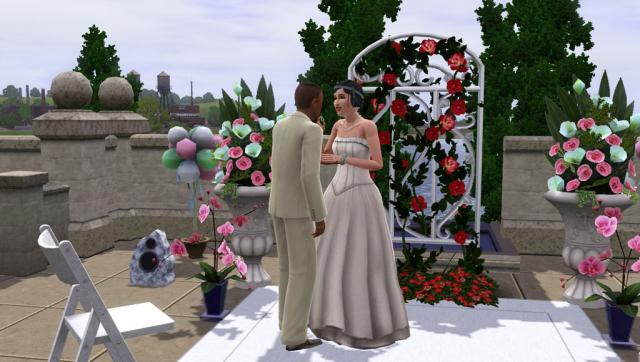 Like Xander, I'm a sucker for sims weddings. My two sims, that I have been playing with as part of a legacy challenge, finally got hitched! I had them rent a venue and set up a lavish wedding for them.
EA did an awesome job with the wedding animations! They're so warm and lovey-dovey. And there might - MIGHT - have been a few tears shed.
I also captured a beautiful picture of the bride and hung it in their new home.
Credits:
-Saturday by
Loverdag
-Marcus Otey by
Badcore
Comments
Generations isn't out for 10 days-ish so I'm thinking not, but a clever use of that flower stand object.
For me my Sims lives usually change the moment the get married because they don't usually live together yet or if they do children aren't far behind. I have a lot of wedding pictures mainly because I want each couple to have a wedding portrait somewhere in their house.
The Sims 3 just didn't grab me like the Sims 2 did sadly.