Wall Paints Collection


I have been using these wall paints for years and they add a nice touch of minimal / modern taste to your Sims' homes. What I like to do is assign a fave colour to each Sim and style accordingly, this makes colour matching their homes to their colour that much easier. Plus it's nice to have simple, solid paint colours.
Enjoy!
XanderGC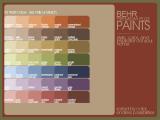 Comments
Those are nice. I have a wallpaint set from over on MTS - similar style but a lot less colours. Especially nice to combine these sort of things with walloverlays, like the ones from Catherine.
Link:
http://www.leefish.nl/mybb/thread-1445.html
Finally! I always need more options for painted walls because you never know what is going to be the perfect mix.