Little Ladies: My First Underwear Set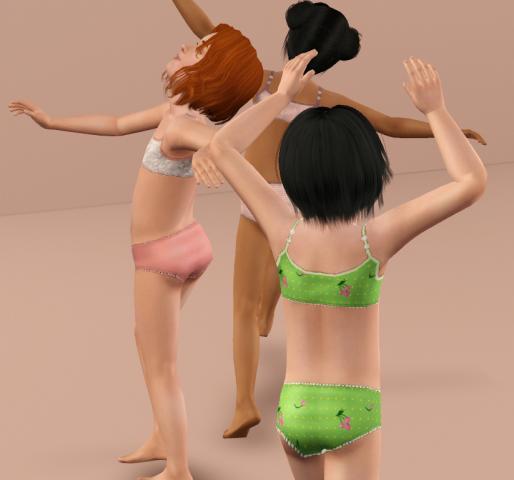 I'm sure all of the ladies out there can remember their first bra, and how proud they were of it. Well now your sim girls can share in the magic with their very own bras, too!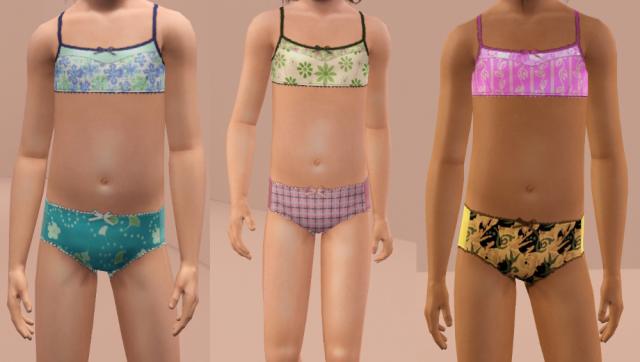 This is a simple underwear set for girls. It includes a training bra with matching lace trimmed-panties. Both are separate pieces.
They are found in sleepwear only. Hopefully EA will come out with an underwear category soon. Each comes with three cute presets (pictured above).
The channels are as follows:
Bra (3): main section, detail panel, straps/strap adjuster/trim/lace/bow
Panties (3): front panel, back panel, lace/bow
Additional Credits:
Rose Double Bun Conversion (no-accessory)
by Robodl95
Bob Cut With Bangs
by Tantra
Fun Kid Pose Pack
by traelia
Filesize 166.63 KB | File Name daluved1_littleladies_trainingbra.rar | # of Downloads 592
---
Filesize 59.8 KB | File Name daluved1_littleladies_lacepanties.rar | # of Downloads 560
---