Summer Fun: 8 New Swim Fashions for Girls

As with elders, EA has horrible taste in children's fashion. As limited as their everyday clothing is, children's swimwear is even more limited. Child females have it rough, because all they have to chose from is one swimsuit or an ill fitting tank with gym shorts. When I was little, the only time I wore a tank top and shorts to swim was if I forgot my swimsuit at home. So, in honor of the summer and in anticipation of new Generations EP, I present 8 new mix and match pieces for your little girls.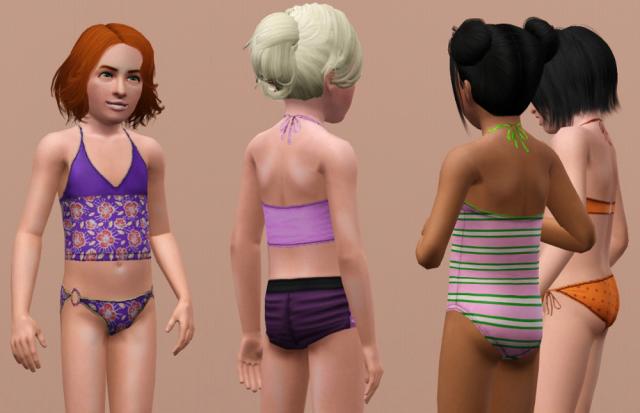 The set includes 3 tops (tankini, drawstring halter top, bikini halter top) and 4 bottoms (plain and ruched briefs, string bikini bottom, ringed bikini bottom). Plus, one full body swimsuit. Each comes with 3 presets (I rather enjoyed making the presets). All of the pieces are enabled for swimwear, but some or enabled for various other appropriate categories.
Channels, categories, overlays, oh my!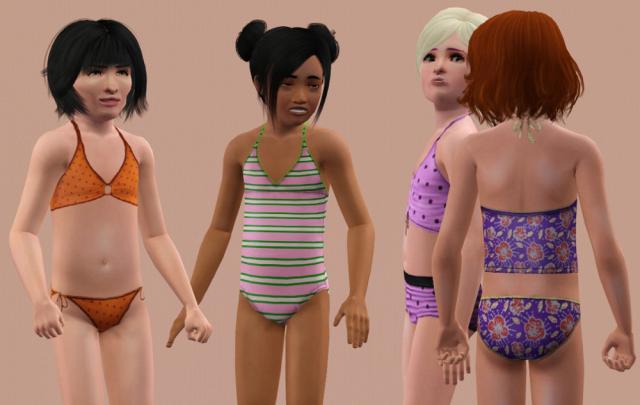 This upload was one of those projects that started off as one teeny creation, then evolved into a whole set. I hope y'all enjoy!
Filesize 627.78 KB | File Name daluved1_SummerFun_Tops.rar | # of Downloads 1,553
---
Filesize 222.91 KB | File Name daluved1_SummerFun_Bottoms.rar | # of Downloads 1,457
---
Filesize 316.09 KB | File Name daluved1_SummerFun_Swimsuit.rar | # of Downloads 1,401
---