Base Game Chair Recolours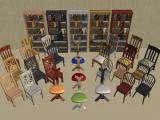 Filesize 604.21 KB | File Name Chairs.zip | # of Downloads 575
---
Comments
Ok, let me tone that down a tad... only all dining-chairs.

Quick someone pass Lee the smelling salts!
Let me get this straight BO Baby,
only dining chair with wood. No worries hun, it's only 8 chairs.
BASE GAME:
Bon Appetit Dining Chair
Ergo Supreme Dining Chair
Moderniste Dining Chair
Oaktowne East Side Dining Chair
UNIVERSITY:
AOD Disco Dining Chair
Mysteriously Medieval Dining Chair
NIGHT LIFE:
Contorto Dining Chair by Ernesto Doloroso
OPEN FOR BUSINESS:
Sit up Straight Dining Chair
If you can think of any others let me know, please. Now I just need to know, do you want them in the same 5 colours?
That all sounds perfectly fine with me, dear. And of course in exactly the same 5 colours, because then we wouldn't need to worry about matching colours, only about the model we want to have.
Oh, and one chair IS missing from your list... the "Stark Inspiration Chair" is the one I use most !!
Thanks in advance, baby