Desktop Backgrounds - Peace of the fish

Hey everyone!
Nonni gave me this idea to upload the original size picture of my fishing spot, so that other people besides me could use it as desktop Background, if they wanted to.

The picture is 1920x1080, so it should fit almost any screen.
I hope you enjoy it!
ps. the download is linked to Mediafire, cause the file is quite big for a single image (2,24MB).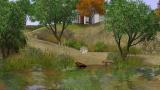 Filesize 2.24 MB | File Name armiel_Peace of the fish-BG.rar | # of Downloads 76
---
Comments

Ah, now at least we can
pretend
that we have TS3, even though we don't even
want
it

Thanks Armi. It's beautiful!