Starfleet Clutter - gimme that coffee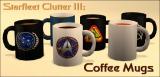 Comments
Awww,
Lee
, you're spoiling me with your shout-outs!

Go Shell for making Leefish recols!! (But drat that she beat me to it.

) The lamps are the material-changing repository ones, BTW.
@Xander
, thanks! There actually is an empty recol as well, but at least your Sims have other options to drink from.

(I don't understand why EAxis didn't make their cups with coffee, that's just sloppy!)