Drag Me To Fabulous Part II

The dynamic duo is back with part two of my
Drag Me to Fabulous
set! This time I have a sexy pair of pumps for your sims!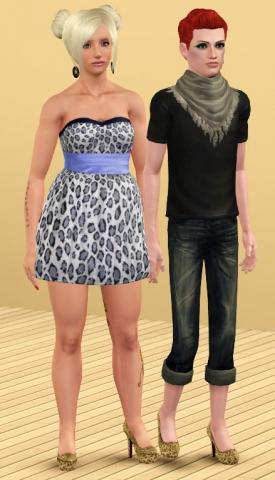 This is a unisex upload, meaning that your transgender/drag queen males have a new pair of shoes, too!
I was inspired by
this picture
that I stumbled upon. I don't know why, but I love men in heels!
The shoes have three channels: main shoe, heel and sole. They are found in everyday, formal and career. And, the shoes are not set to random.

The male shoes have proper morphs and bone assignments. However, the shoes are not perfect (as you can see), but for normal gameplay the issues are pretty harmless.
Also the UV on the sole is a little stretched. I tried to adjust it as much as possible, but there is only so much room on the map without causing overlap on other pieces of clothing.
HUGE HUGE HUGE thanks to Omega Star for his High Heels for Men upload. I piggybacked off his original meshes to create these shoes.
Filesize 130.76 KB | File Name daluved1_AF_DMTFII-Pumps.rar | # of Downloads 6,349
---
Filesize 185.06 KB | File Name daluved1_AM_DMTFII-Pumps.rar | # of Downloads 4,584
---