Family Reunion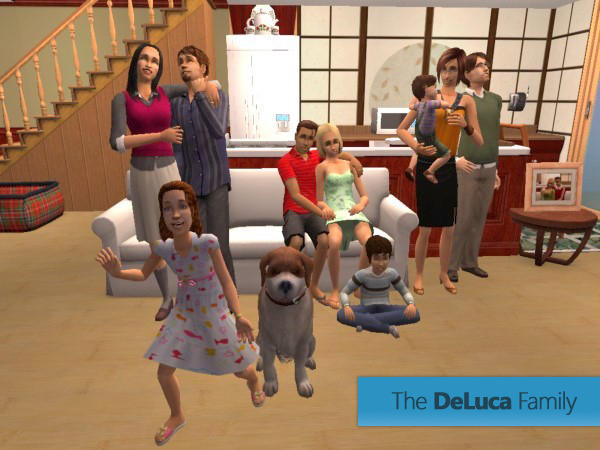 It's going to sound silly but the more I play the more I get attached to my Sims so now that my first family has children who have grown up, gone to college and have gotten married and even have had children of their own I know I need to let these two enter into their next stage of life and become Elders. So before I let that happen however I decided to invite everyone over to Jake and Jenny's house and take a family picture together.
Sure I had to cheat to get everyone in place and make them controllable to get them to do the poses but it still counts as a family portrait right?

In case it isn't clear from the pictures:
Jake and Jenny are the parents of Joey and Julie.
Joey is married to Lisa and they are the parents of Jeanie and Leon.
Julie is married to Castor and they are the parents of Jimmy.
Pringles is the family dog belonging to Jake and Jenny.
The third picture is of Jake and Jenny with Teenage Joey and Julie.
The last picture is of a napping pregnant Jenny.

I love capturing their life moments.
Comments
I agree with you, I'm totally attached to this family and the fact that I know I'll eventually have to let them go is kinda sad to me. I know it's inevitable and it won't make sense for them all to remain adults forever, it's just a shame to let them go when the time comes.