A Fishy Tribute: The LeeFish Mobile

Just Keep Swimming!
This might require a bit of an explanation. The idea for this first struck me when I completely misinterpreted the title of
this thread
and though, "how cute, somebody has made a mobile with little Leefishes!" Which much to my disappointment wasn't what the thread was about at all.

Something obviously had to be done about that.
Since Lee is such a generous and awesome fish all around, she allowed me to use
The
LeeFish - without knowing what I was going to subject the poor fellow to, I might add. She's a brave fish, that Lee.

And the LeeFish Mobile was born!
This isn't just any old mobile: it's animated!

The smaller Leefishes swim (or rather spin) clockwise and the larger Leefishes swim counter-clockwise. Unless you tell them to swim backwards, that is - they can do that, too. They won't automatically start swimming when you place the mobile, though, because they're polite like that. Also, when you feel they need some rest, just tell them to stop swimming and they will.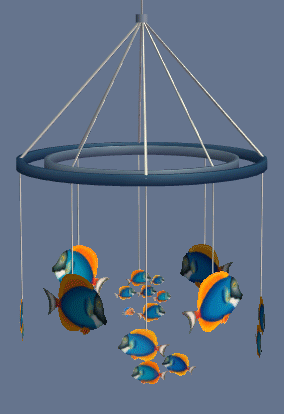 (It looks much less messy in game, I promise!)
Also, the fish part of the mobile and the rings/strings part are different groups, so they can be recoloured independently. Just in case you want the rings to be a different colour. (I assume that you won't want any other kind of fishes than Leefishes.

)
You'll find the LeeFish Mobile under Decorative -> Misc. and it costs $75. It has 938 faces, which is a little high for a mere one-tile object, so you may want to use it sparingly if you're on a slow computer.
(Although they might be a bit dizzy, no Leefishes were harmed in the making of this mobile.)
Filesize 303.66 KB | File Name NixNivis_LeefishMobile.zip | # of Downloads 836
---
Comments

Now that's the only REAL Leefish Mobile! Lovely done, Nix!