Elder Bra Age Conversions

I stumbled upon this bra while rehearsing for my latest
video tutorial
and decided to use it in my tutorial. I never noticed it in game, but it's a really awesome bra to have! Thanks EA...sorta...
The only bad thing about it, was that it was for elders only. So, to fix that, I converted it for teens and adults, too!

Seriously, this is probably one of my favorite pieces that EA has made. The design is so simple, yet so elegant. Plus, it looks better on sims with larger breasts. I mean, those little flimsy bras with the ruffles and what not are cute, but tend to look distorted on bigger boobs.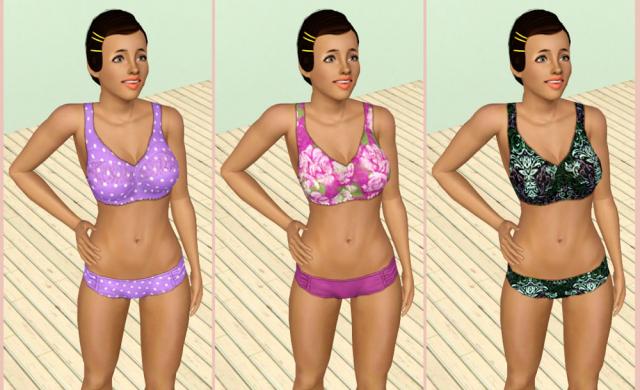 The textures on for the conversions all pull from the original elder bra, except for the base textures. I had to darken the adult's base texture to get it to CAST normal. And, with the teen version, I had to rescale it a bit to fit their frame.
Like the originals, it has one recolorable channel and is found in sleepwear only. The adult version is available for maternity, too.
About the Files:
The teen and adult bras are packaged separately. And also, there is a COMBINED version with both teen and elder bras in ONE package. So, be careful not to install both.
Additional Credits:
All sims' hairs are from EA or the
EA Store
, except for the brunette teen.
Her hair is hair 25 from
XM Sims
.
Filesize 187.6 KB | File Name daluved1_AF_elderbraconversion.rar | # of Downloads 270
---
Filesize 183.47 KB | File Name daluved1_TF_elderbraconversion.rar | # of Downloads 194
---
Filesize 359.3 KB | File Name daluved1_AF-TF_COMBINED_ElderBraConversion.rar | # of Downloads 469
---
Comments
You stated that this was available for maternity. Just curious if it has an actual pregnancy morph mesh or not. ~Thanks