Maternity - Plus Sized Beauties: Summer Collection Part 1

Fixed Maternity Version
When creating the pregnancy morphs, the bumpmaps got screwed up somehow. This is now fixed.
Pregnancy morph added!
The tunic now comes with pregnant morphs! If you want the tunic to be usable by pregnant sims, download the MATERNITY version of the tunic and remove the original. You cannot have both in game - nor do you need to - because they will conflict.
Breast morphs are fixed, please redownload!
My mom's birthday is coming up so I've been browsing some of her usual clothing spots to find her a gift. Her favorite store is
Lane Bryant
, a store specializing in plus sized clothing. It was there that I stumbled upon
this adorable tunic
which inspired this clothing set!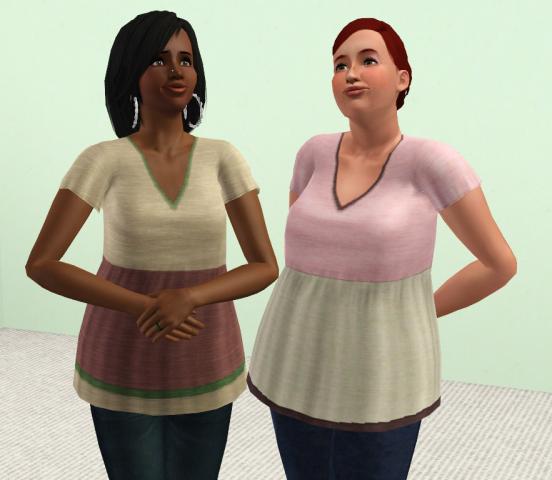 The summer tunic is a loose top made with the plus sized sim in mind. It's a custom mesh made from the EA baseball t-shirt. The tunic has completely redone bone assignments to assure proper animation, this is demonstrated
here
.
The tunic has three channels with two channel layouts to create different looks. The first channel layout (pictured left) is used to create a more bohemian look. The second (pictured right) can be used for more traditional styles. The tunic is found in everyday and formal for females Young Adult and Adult.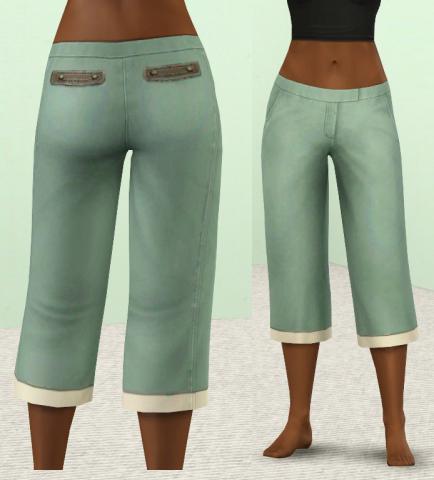 The second piece in this set is a simple pair of capris.
But wait, these look like the EA capris!
Indeed they are similar, but there are some differences. The cuff is much broader and the back deco-pockets are different.
The capris pants have three channels: main pants, cuff and back pocket flaps. The capri pants are found in everyday and formal, for adults and young adults.
Polygon Counts:
3114
Filesize 548.54 KB | File Name daluved1_PSB_afSummerTunic.rar | # of Downloads 260
File Updated 21-07-2011
---
Filesize 496.14 KB | File Name daluved1_PSB_afSummerCapris.rar | # of Downloads 277
---
Filesize 549.53 KB | File Name daluved1_PSB_afSummerTunic-MATERNITY.rar | # of Downloads 299
File Updated 04-08-2011
---