The Sims 2 Base Game Collection Files


The Sims 2 Base Game Collection Files
Creator: joninmobile
If you have ever built or furnished a house before and wanted to make it available for Base Game users you would find it pretty difficult to make sure that you only used Sims 2 Base Game objects and colours, especially if you have all 9 Stuff Packs and 8 Expansions. This collection file solves that problem for you by grabbing all the base game objects and puts them in a collection for you to use. A must have for the beginning builders out there.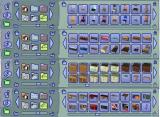 Comments

Whip waving Nonni? Beware of the whip waving BO, instead!

What's wrong with joninmobile? I think Jon/TNW does some great things there.

Also, if you have a problem with someone, maybe you should show some balls and tell it to them personally, and not on a board where they're not likely to see it. This time I'll let you off the hook, because you're my friend. Next time, you may face an official warning, though...