The Sims 2 Base Game Collection Files


The Sims 2 Base Game Collection Files
Creator: joninmobile
If you have ever built or furnished a house before and wanted to make it available for Base Game users you would find it pretty difficult to make sure that you only used Sims 2 Base Game objects and colours, especially if you have all 9 Stuff Packs and 8 Expansions. This collection file solves that problem for you by grabbing all the base game objects and puts them in a collection for you to use. A must have for the beginning builders out there.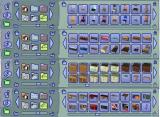 Comments
Hmm I feel as though I'm missing something here. All I know is that his name has the word "banned" on MTS, but when I was trying to make the default replacement screens for PC's he was nothing but helpful on his site when I messaged him.
I don't believe in being forced to pay for something for a game you didn't create yourself so I am also against paysites, but that being said if it is my choice and I have some spare change I will donate if given the option, like I did on Fresh Prince's Creations site.


The "Banned" in his profile doesn't mean anything, you know? That's his own description of himself. Just like Phaenoh says "Sprinkles and Streaks" about herself.

I don't think Jon got banned that recently; he posted this mod like a fortnight ago.
He got banned september 14, 2010 (IDK why I just remember it ). He had converted a staff member's item to TS3 despite her saying no and put it on T$R. Also he was caught using turbosquid meshes without credit .

I like F-P too. He makes good cars and some good items. And He had allowed me to slave one of his older sets. (that never got out of my project folder . And it had some decent recolors . Sadly not much got out of my projects folder , )