29 Bakonmi Sprok Desk Recolours

With the permission of NixNivis I give you 29 recolours of the Apartment Life 'Bakonmi Sprok Desk' to match the 30 "LAMPAN" Recolours which you can find
HERE
.
If you are wondering why 29 not 30, the desk top already comes in black.
You can find the matching Baknomi Sprokette Table by Lee
HERE
, the Baknomi Sprok Table by Lee
HERE
, the Werkbunnst Tek Sofa by Lee
HERE
, 29 Werkbunnst Tek Chair Cushion Recolours
HERE
and 29 Industrious Dining Chair Recolours
HERE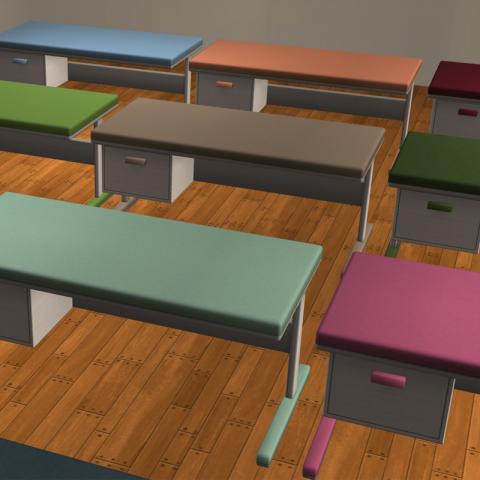 All files have been compressed and tested.
Filesize 686.25 KB | File Name BakonmiSprokDesk-NixNivisColoursByMichelle.zip | # of Downloads 795
---
Comments
If I'd had half a brain in my head, I would have added a little colour guide to the lamp recols myself - but in my defence, I didn't know it would become a trend.

(And if I'd had 3/4 of a brain, I would have
numbered
the recols so that they'd show up in the catalogue in a sensible order (greens with greens, blues with blues) instead of alphabetically... you live and learn, as they say.

)
Michelle, re your packaging problem, have you considered adding several recols to the same .package? (If that's what you're doing already, just ignore me.

) Then the individual files would get a little heavier, but it would drastically reduce the number of recol files.
Michelle;9310 Wrote:Trying to figure out how to package the next lot of recolours I'm only about half way through them, all up 17 items, 10 recolours of each and that's without the cushion recolours.
If these recolours are what I think they are then I would go with the woods in groups and the cushions separately. Like (for example)
All base game matching woods
All AL matching woods
All Seasons matching woods
All plain cushions
All patterned cushions