Traditional Piano

Don't have room for a concert piano? Dislike those electric ones? Here is a nice traditional piano for you!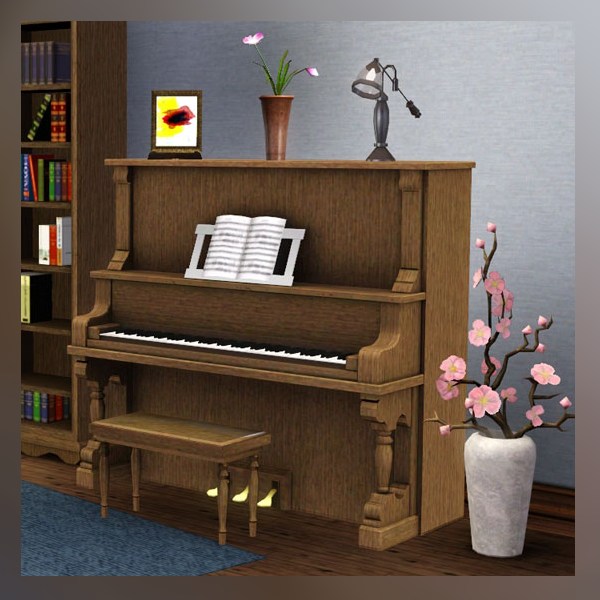 I was making a western saloon, when I realized that I don't have a right style piano to put there. So I asked some people if they had seen anyone make an upright piano, that would also be playable. Jaguwar found me a few, but they had flaws I did not like, so I decided to make one myself - it's not that hard after all

Or is it? After lee extracted me the TS2 meshes, I looked at the files and thought: "OMG, why did I wanna do this?!" But I'm a stubborn finn, so I stripped off all the parts I did not need/wanna use and then regrouped the whole thing for mapping. TS2 mapping does not really work for TS3 >.<
After some time and cursing I had myself a nice uvmap, which I then just fiddled with a little to make things nice. The harder part really was to fix all the little extra bits Blender added to the multiplier. A little too much black here, little too much gray there, etc. And making the mask...
But I made it, and am very happy with the results. Then I decided i wanted the piano to sit nicely against the wall (the electric piano doesn't). Moving the butt-slot was not as easy as I would have imagined! Morph gave me advices, but i just could not make TSRW, S3PE and Atavera's Rig editor work together and do what I want, so Morph was a nice guy and fixed the butt-slot for me

I thought I was done, but no. Lee and HP made me make deco slots. I objected a little after the butt-slot fiasco, but gave in and added 3 decorative slots. Then I only needed someone to test for me, and that was my lovely friend Kayla.
Of course it was not as straight forward, but I don't feel that it's necessary for me to tell you about every single fix/test

The result of this work is a very nice traditional piano, that I hope many of you will enjoy!

---
I realized I have not uploaded here in a long time, and I'm sorry for it. So I hope that this TS2 conversion/edit makes you a little happier with me

I had to reupload the file - I fixed the slots. So please redownload if you got this before seeing this line!
Filesize 232.42 KB | File Name armiel_Traditional Piano.rar | # of Downloads 931
File Updated 04-11-2011
---