Mission Redux

I made this quite a while ago - its a remesh of the Mission Dining Table and Chairs from OFB. As some people might like to just REPLACE the existing mesh with mine then in ONE rar there are replacement GMDCs which will override your existing table and chairs, the other is the full files.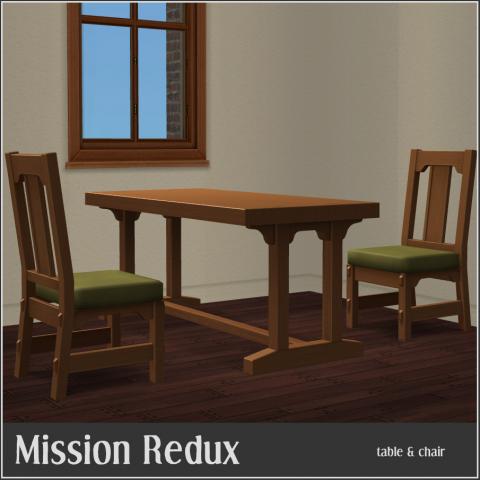 If you like the existing table and chairs then there is the remesh version which will add a new table and chairs to your catalog. They are cheaper because I thought the original price was a bit steep. Of course, as always, they are repository linked to the OFB items.
Item

Subsets

Poly Count

Price



Mission Table Remesh
1
1448
600


Mission Dining Chair Remesh

2

1258

300



Filesize 32.03 KB | File Name Mission REDUX (GMDC only).rar | # of Downloads 539
---
Filesize 44.5 KB | File Name Mission REDUX (full files).rar | # of Downloads 1,122
---
Filesize 49.37 KB | File Name Mission Redux Default Trio.zip | # of Downloads 707
---
Comments
That would be awesome Shell - it really needs extending a bit. I have a table and a simple wooden settle and a sort of kitchen dresser base to go with this.
I abandoned the dresser because
1) It looked like I had ripped off a counter (which I had)
2) I could not get my sim to see it as a surface to put a coffee machine on. So I abandoned set in rage....
I will package up the bits and send em over to you

---
ritaxis;10259 Wrote:I took both files because I like the old table but the old chair is weird. So I'll use the default chair and the full file for the table.
sounds like a good plan - I have to say I hated the chair rather more than the table - except for when my sim moved his feet and they poked through the wooden table. That was really annoying.
Any interest in the bar stool? I never used this set until your version. Thanks!