Mission Redux

I made this quite a while ago - its a remesh of the Mission Dining Table and Chairs from OFB. As some people might like to just REPLACE the existing mesh with mine then in ONE rar there are replacement GMDCs which will override your existing table and chairs, the other is the full files.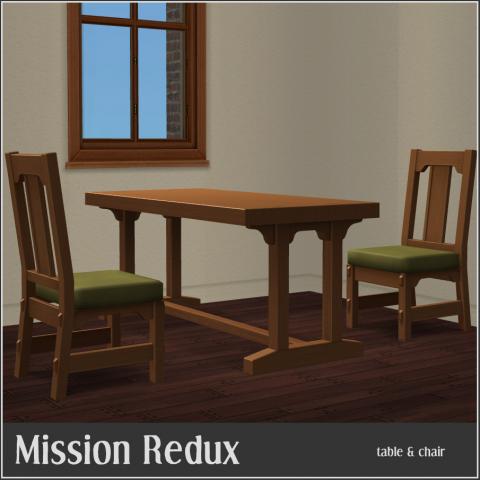 If you like the existing table and chairs then there is the remesh version which will add a new table and chairs to your catalog. They are cheaper because I thought the original price was a bit steep. Of course, as always, they are repository linked to the OFB items.
Item

Subsets

Poly Count

Price



Mission Table Remesh
1
1448
600


Mission Dining Chair Remesh

2

1258

300



Filesize 32.03 KB | File Name Mission REDUX (GMDC only).rar | # of Downloads 547
---
Filesize 44.5 KB | File Name Mission REDUX (full files).rar | # of Downloads 1,135
---
Filesize 49.37 KB | File Name Mission Redux Default Trio.zip | # of Downloads 715
---
Comments

Awesome! These look so much better than the originals...which I find to be way too bulky. Thanks Leefish~
I took both files because I like the old table but the old chair is weird. So I'll use the default chair and the full file for the table.
Quote:Did I ever give you the small table?
No, but I will take it if you still have it, PLEASE! ♥
(I was going to ask if I could play around with the table...and possible make a small table, coffee table, end table and maybe even have a go at the desk to match.)