Shh! don't tell anyone by Michelle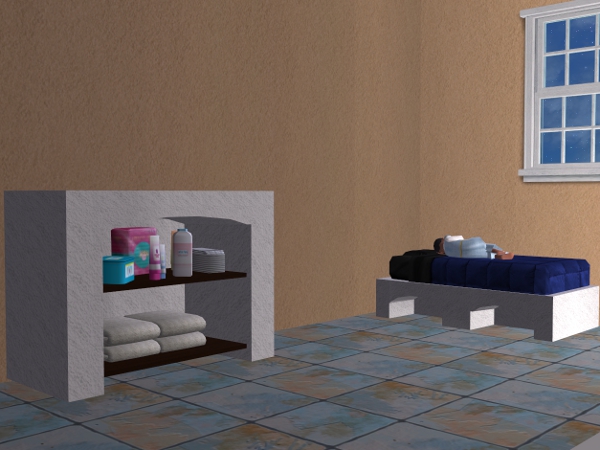 Okay, I know this is very naughty. I don't have permission to do this but as I'm not uploading it, it's for personal use only.
I love Moune's Le Morvan Super Set, however, there isn't a nursery with the set. So I decided to play around in Milkshape and see if I could make a toddler bed, changing table and potty to match.
Toddler beds I'd done before, so that was very easy, I have never done a change table before, this is my first, as for the potty...let just not go there.

If you would like to check out Moune's Le Morvan Super Set you can find it
HERE
, as well as some other amazing sets.
leefish


Don Fishiatelli

I have been seeing all those toddler beds on MTS - they are really cool.

Why not offer these extras to Moune? She seems very nice and will probably be delighted.

The site don't jive?

PRESS F5

12-02-2012
BoilingOil


Classic!

Very nice! I don't see what's wrong with showing pictures of stuff you made yourself, even if it's inspired on someone else's stuff! And you're even advertising for them!

However, if I may ask... Why didn't you link to the

correct

page?

Like this

Le Morvan Superset

12-02-2012
leefish


Don Fishiatelli

Maybe you mean

direct

page BO, as Shell was linking to the whole site

The site don't jive?

PRESS F5

12-02-2012
BoilingOil


Classic!

Yeah, that's what I mean... The direct link is the correct link

In my opinion, if you're linking anyway, then finish the job and link to the intended object, not to the site's home page.

On the page that I linked, there's still a link to the home page, for those who wonder. Alas, the other way around it doesn't work that well.

Imagine the site had been MTS.

12-02-2012
leefish


Don Fishiatelli

Hmm, perhaps we should start calling you GOM instead of BO

The site don't jive?

PRESS F5

12-02-2012
NixNivis


Sim Trekker

I think it looks great, Shell! I agree with Lee, you should offer them to Moune.

12-02-2012
BoilingOil


Classic!

(12-02-2012 05:14 PM)

leefish Wrote: Hmm, perhaps we should start calling you GOM instead of BO

Yeah, why don't you just go ahead and say it out loud? I'm the Grumpy Old Man alright!

12-02-2012
Michelle


Recoloraholic

Quote:However, if I may ask... Why didn't you link to the correct page?
Like this Le Morvan Superset

We are both right ♥ BO Baby ♥, if you read what I wrote it says:

Quote:If you would like to check out Moune's Le Morvan Super Set you can find it HERE,

as well as some other amazing sets.

What I should have said is:- "If you would like to check out Moune's Le Morvan Super Set you can find it

HERE

, as well as other amazing sets by Moune

HERE

"

@ Lee & Nix, if I ever work out the potty and perfect the stuff I have done, I may send them to Moune. At the moment it's good enough for me, but not for sharing.

---

Quote:Yeah, why don't you just go ahead and say it out loud? I'm the Grumpy Old Man alright!

Oh! I thought GOM was "Good Old Mate".

12-02-2012
Honeywell


Coffin Fixer

Nicely done, Michelle.

It's all the more interesting, I think, because it didn't start out as nursery furniture.

18-02-2012