Simlish Mashed Potatoes


A new meal of simlish Idahoan potatoes. Available for all 3 meals. All of the morph states are included (fully animated).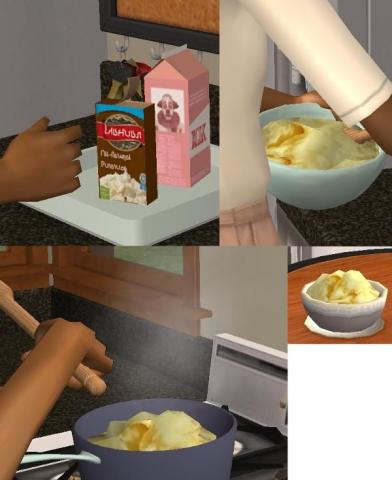 Poly Counts:
Ingredients Tray: 146
Preparation Step 1:486
Preparation Step 2:166
Cooking State:166
Group Serving:198
Single Serving:130
Single Serving and Plate:562
File has been compressed. Enjoy!
Filesize 443.04 KB | File Name Mashed_Potatoes_TNW.zip | # of Downloads 587
---
Comments

See? That pretty thumb sold it to me!

A beautiful girl of Sim-African descent beating innocent taters to a pulp... yeah, that works for me...

Thanks Jon, for making and sharing this, thanks Shell for supplying the nice thumb, thanks Lee for putting it in.