Real Alcohol Bar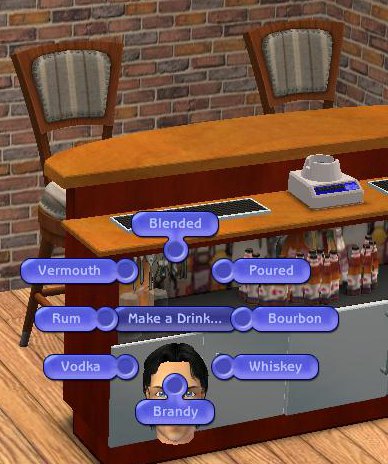 Now your sims can drink alcoholic beverages from the base game expensive bar. I added new pie menus to the poured interaction of bourbon, whiskey, vermouth, rum, vodka, and brandy. Teens can't use the alcoholic drinks, but can still use the Maxis poured or blended drinks. The bar is a non-default bar. The bar is found in general/party and costs 1,000 simoleons. Enjoy!
Filesize 159.69 KB | File Name Real_Alcohol_Bar_TNW.zip | # of Downloads 1,047
---
Comments

And if a sim has a few more than is good for them, do they actually get plastered, rubbish-faced or blended? Would be cool to see sims swagger around the lot, getting anywhere but where they're TRYING to go...

Maybe someone with the skill could add these actions to the bar
http://www.modthesims.info/d/200435
.

Jon should have a go at it

@Boiling Oil This object pretty much does what you want it to:
http://www.modthesims.info/download.php?t=347222
Cmo's Tiki Bar