Centred Curtains

Originally uploaded on MTS as a joint upload for Leesester and DJLee
Here are the base game 1 tile curtains and blind repositioned to fit on a 1 tile wide window sitting on two tiles.....the Colonial Shuttered window? The one we all love and never use as there are no curtains for it?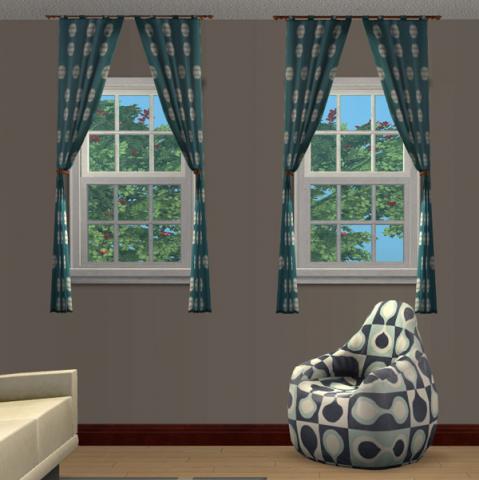 Here they are......all 7 base games curtains in a handy format! No more fiddly move objects and snap to grid - just pick em and place em - just like Maxis should have made it....
All objects are the
same price
as their Maxis counterparts, are
fully recolourable
and, because they are
linked to the original base game curtains
, will pick up any recolours for the base game curtains that you have in your downloads folders.
In the screenshots the original curtain is on the right - our reposition is on the left. You will need to put the diagonal and straight versions in your downloads folder to get full useability
ENJOY!!!
Polygon Counts:
All poly counts are for Diagonal AND Straight and are the same as Maxis
Aluminium Privacy Blind 475 polys
Cafe Curtain 706 polys
Cornerstone Victoriana Velvet Drapes 1362 polys
Floor Length Tieback 1032 polys
Funky Curtain 1018 polys
Veil Of Dreams 640 polys
Antique Lace 572 polys
Additional Credits:
Maxis for the original Mesh, Numenor, IgnorantBliss and all the other great tutorial writers and modders who taught us how to make objects - SIMPE and the CEP.
Filesize 220.84 KB | File Name LEEFISH_2tileCurtains.rar | # of Downloads 1,692
---
Comments

Coolio! It's always been tough, not to be able to use curtains on those 1 tile-windows-on-two-tiles. Thanks to you, that's now finally fixed!