Awesims Wood Siding

Wood siding to match the shingles Awesims made for the earlier "Arts and Crafts" set (which you can download separately).

They come in a horizontal orientation, and vertical, for something a bit different! They are not traditional "weatherboard" style, but more like cedar cladding. Available in all the colours of the shingles, plus some bonus wood tones. Colours are shown on the image.

Walls are MAC compatible.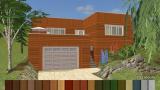 Comments
There are no comments yet. Be the first to add one.