Baggy Tees from free dingbats...
Baggy Tees from free dingbats...
Creator: rawmilk905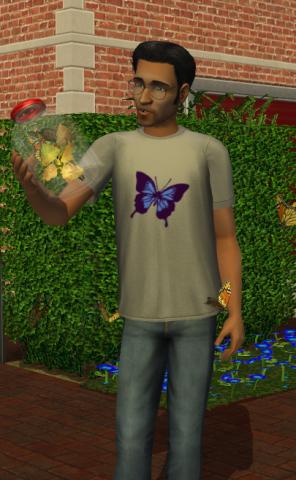 One of my tee shirt models (
hair by HystericalParoxysm and fanseelamb
) in my test neighborhood was trying on shirts and there were butterflies outside. I promptly put him in the butterfly tee for a photo op.
As per leefish's prompt, and in spite of my initial reluctance, I decided to post a
flickr link
here after all. Mostly, these are screenshots of some
baggy tee
recolors I have been working on. I think of them as a sort of "first real project" and there are several which I don't intend to keep. Please comment (preferably on flickr, beneath the picture), a little feedback, good or bad, may encourage me to actually continue working on them. I sort of lost interest somewhere in the tedium of making
teen
and
child
repository versions.
These are separates, so I am only working on the tops. I believe all of the bottoms pictured are EAxis, except for some CatOfEvilGenius
board shorts
.

Comments
Those look great - your pics are good too. I am going to repost your flickr link - leefishers - to FLICKR
Please comment here :
COMMENTS AND PICS
Me again. I did comment on a pic - blimey - there are LOADS - and I will go back and look at some more later.

They look very good, on some the decal is a bit TOO strong. I think a slightly lower opacity would make them look more printed as the shading on the tshirt would show through more.
Thank you. I was doing about 75-80% although it varies from shirt to shirt. I will tone it down more. I should probably start saving my psd files so I can go back and adjust these things, right?