Mid Century Classic - Auping Daybed

For those of you who don't know, I live in the Netherlands. Auping are a Dutch company that make beds for the Dutch Royal Family. Last year Auping celebrated the 50th Anniversary of the first production of their Mid Century Classic, the Auping Daybed.
I asked sixtyten from Awesims if she would consider making this daybed for TS3 (she loves midcentury stuff) and she kindly obliged. You can get the TS3 version
HERE
. I then asked if she would mind me porting the mesh to TS2 and she said go ahead - so here it is.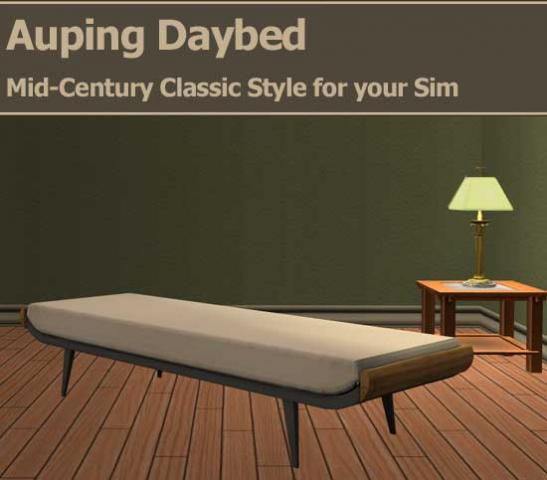 This is a sofa, not a bed, rather like the original daybeds were a place to take an afternoon nap, rather than being a real bed. Your sims can sit and lounge and nap on this daybed.
Also, if there is anyone out there who would like to make some
recolours
for this that would be awesome indeed....
EDIT deestar over at sailfinsims has done 15 recolours of this item - link below. There are also 16 recolours here on Leefish - see link below too.
FenixFish recolours
Deestar recolours
Prices and Catalogue Location
It can be found in the sofa section of the catalogue at 800 simoleons
Polys
1560 polys (I know, but its GORGEOUS)

Filesize 120.64 KB | File Name Auping Daybed by LeeFish.rar | # of Downloads 2,019
File Updated 14-12-2010
---
Comments
I'm in love with mid-century stuff, and I'm collecting objects and making houses from original floorplans from this time period for my game. I only play TS2 (and don't consider switching to TS3), so I was really upset that the newest wonderful Awesims furniture sets are for TS3 only and she's not making them for TS2. When I saw this sofa, I got very excited, hoping that here would be more things from Awesims for TS2, like these sets:
http://awesims.sixty-ten.net/2010/01/02/...he-sims-3/
and
http://awesims.sixty-ten.net/2010/05/03/...he-sims-3/
(especially living chairs and fireplace, and the bench).
Daybed looks gorgeous in game, and since you've already re-made something from Awesims with her permission, it would be great if you make more stuff from this site, that was originally made for TS3, for TS2. Please? (but if you're not, thank for the sofa and good luck on other projects!)