The Peck Family Library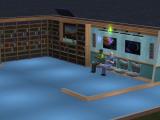 Comments

That is a gorgeous library - and I especially like the touch of the little bay where the picture is. Nice!
*comforts leefish with much chocolate fish food... then reminds her that a fish is a pet.
Sorry, but a library is not a library without a recliner.

*Shell daydreams. The perfect library, soundproof room, floor to ceiling books, 1 comfortable recliner, 1 lamp...heaven.
leefish;13312 Wrote:

* leefish envies the Pet chair set. Love the furniture in Pets - hate the pets.
Can't the furniture be made base game compatible?