Recolourable Breadfruit Tree

My beautiful and clever friend HeartDeco (Debra) knew how much I loved the Breadfruit Tree and that I wanted it in other colours, so as a gift she made one that was recolourable for me. I've made 20 recolour of the tree; and with Debra's permission I'm sharing the mesh and recolours with everyone here.
This tree is not seasonal, so don't expect the leave to change colour, fall off or the tree to get snow on it. It is however base game compatible.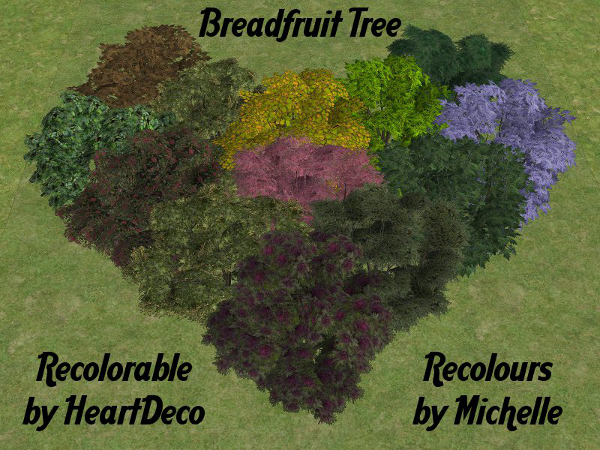 ♥♥♥ Big hugs, thanks and credit to HeartDeco for the mesh and allowing me to upload it with the recolours. ♥♥♥
All files have been compressed and checked in game, there's a colour chart included in the Zip file.
Enjoy, have fun!
Found: Build Mode > Garden Centre > Trees

Item

Subsets

Poly Count

Price




Recolourable Breadfruit Tree

2

1901

270



Filesize 1.27 MB | File Name HeartDeco_Recolorable_BreadfruitTree_Mesh_RecoloursByMichelle.zip | # of Downloads 526
---
Comments
HeartDeco;14592 Wrote:Thank you, Michelle, for uploading these to an appreciative and classy site (I am very shy about my uploads). The bark is recolorable as well !

Debra
You see that Fishies? She called us classy.
* leefish glares at the nose-picking lamb at the back. Stop that. Classy, remember?