Why Clear your Cache?
Because it gets corrupted. And when it gets Corrupted, it can cause your game to crash.
What is the Cache?
It's where the game stores an index of your CC content.
How do I clear the Cache?
The easiest way to deal with this - is to delete your cache files, forcing the game to recreate them each time.
Location: My Documents\EA Games\The Sims 2\
You'll find 1 or 2 files: Groups.cache and Accessories.cache.
Delete them.
Alternatively - if you can get an empty Groups.cache that if you set it to read-only, you will never have this problem again.
An empty Accessories.cache has been attached. Set it to read-only (using right-click properties in Windows Explorer)
There are no additional images for this resource
Filesize 187 bytes | File Name Accessory.zip | # of Downloads 424
---
Comments
No worries Lee. I used to have a bat file that did this automagically and then started up the game. Can't find it now, and am too lazy to recreate it.
I'm happy to delete most things in test hoods, so if there's ever anything you want to check - let me know

I use to clear my caches before starting my game, then about 18 months ago someone recommended I download the empty Groups.cache, I just wish I could get an empty Accessories.cache as well, then I would never have to touch that either.

Is it possible to remove the downloads folder, clear both caches, start the game then set then both to read only?

Also Kiri do you know if deleting the Content Registry does anything.
The simplest way to do that - is just start up a new game. Rename your old game to 'Sims 2 - X' or something like that. The game will regenerate the cache, and they will be empty of User CC. Set them to read-only should be done.

I just had a bit of look at the content registry file that I have. It contains the links to the bodyshop files that we've added in SavedSims. I suspect that it is ok to delete. I have deleted it, and it doesn't seem to have made a difference.

Attached is an empty Accessory.cache


♥ Thanks and hugs for the Accessory.cache file Kiri. ♥
If anyone wants a Groups.cache file, that is totally empty you can get one from Caleb_71
HERE
, it's the one I have been using for over 12 months now without deleting.
Just remember, after placing the file in My Documents > EA Games > The Sims 2...to right click, go to properties and tick the
Read-only
box
before starting up your game
.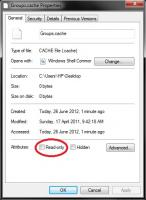 I just found this - and THANK YOU!!! I've been deleting them both before starting every time too (I have a one-click short cut on my desktop that takes me straight there) Now I don't have to worry about it anymore! And, my desktop is one icon cleaner

YAY!
I have a weird issue with the accessory.cache file: even though it's set to read-only, now and then I notice that the file has gotten bigger and the option "read-only" isn't ticked anymore. So basically I end having to replace the file with the empty one quite frequently, which is really silly xD
I never had this problem with the Groups.cache file, I set to be read-only and it stayed that way till today. Any idea what could be causing this? I have the Sims 2 Ultimate Edition and my OS is Windows 8.1