Wall Niches - Part 1 - The meshes and just a few recolors


Wall Niches - Part 1 - The meshes and just a few recolors
Uploader:

mustluvcatz
I saw
these
by Orange Mittens and didn't think there'd ever been anything done like that for Sims 2. So, inspired by those niches- I bring you inset wall niches for the Sims 2.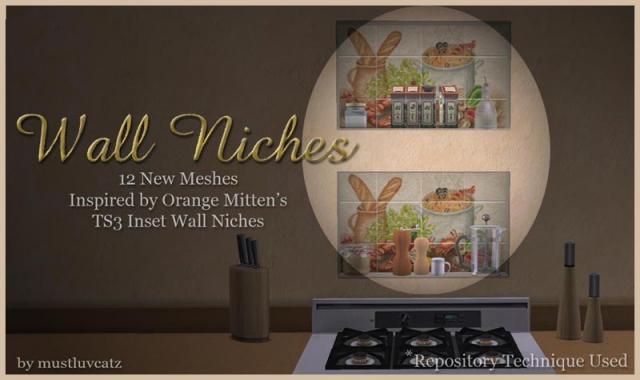 There are 11 meshes: 6 frames and 5 shelves. I did use the repository technique on these so the frames have a Master, with 5 being Slaves to it and the shelves have a Master with 4 being Slaves to it. I did it this way so the frames could have patterned backings.

The frames can be found in Windows for 15 Simoleons and the shelves in Surfaces>Shelves for 5 Simoleons.
No cheats are needed to place the frames or the shelves- you can't place 2 frames on the same wall tile. Due to wall masks, that just can't be done. But if you use "moveobjects on" you CAN place one of the single frames over any of the niches on the Master mesh or either of the double frames. If you do it that way, you'll need to choose the texture of the single frame before you place it because after it's placed, you can't use the design tool on it. You might need to play around with that idea a bit- it worked for me but not all the time, some textures just didn't show up on the single frame after being placed. You can see a working example of what I mean in the screenshots.
Another idea: if you use "moveobjects on" and "boolprop snapobjectstogrid false" you can place a mirror in the wall to make it look like the frames have a mirrored backing. You can see an example of that in the screenshots, too.
One more idea: using the same cheats and being able to shift objects, you can place a wall light in the wall to light up the shelves. There is no screenshot to show that..but I did try it and it looks pretty neat.
I talk too much, so I'll just let the screenshots do the rest of the talking, lol. These are pretty fun to play around with and I found a use for them in quite a few of rooms while testing them out. Note- One of the screenshots says 12 meshes. I can't count- there's 11. This means that the labeled screenshot is wrong, too..there is no 2b for the shelves. (Those shelves are 2 single shelves that are pictured used together on that frame.)

Polys
Triple Niche - 156
Double Niche - 104 (There are 2 doubles.)
Single Niche - 52 (There are 3 singles.)
Triple Shelf - 324
Double Shelf - 216
Single Shelf - 108 (There are 3 singles.)
NOTE: Being a very lazy cat (aren't most cats?) I haven't updated or edited this post yet.

I redid this set and posted it at MTS. I won't link to it right now, but you can find it by looking on my profile. (What?!? If I don't link to the newer set, that'll give me reason to actually edit THIS post, right? Right?? In theory..... lol.)
Filesize 336.09 KB | File Name MLC-InsetWallNiches.rar | # of Downloads 1,032
---
Comments

These look great fun MLC. I've downloaded the 'toys' - thank you