Plumb Bob Lamp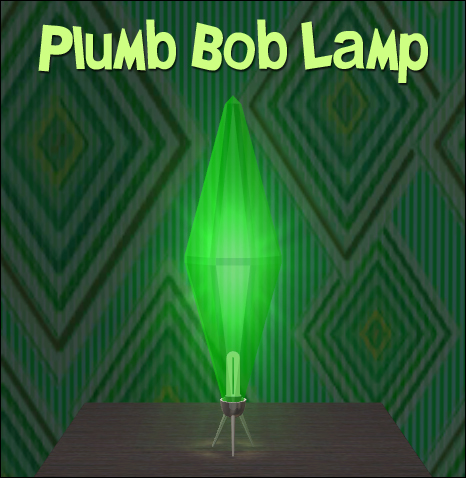 This is all XanderGC's fault, you know.

The green recol of my GAVIK lamp reminded him of a plumb bob and it made him wonder why there aren't any plumb bob lamps. I wondered that, too - it seems like something Sims would have. So I made one.
The Plumb Bob Lamp comes in the same colours as, well, a plumb bob: green, green yellow, yellow, orange, red and platinum. When turned on, it rotates slowly counter-clockwise (you know, like a plumb bob), and of course it also has the plumb bob glow. The glow will
not
change automatically when you change the recol, though; you will have to see to that yourself by using the "Change Glow" menu option when the lamp is turned on. That's the bad news. The good news is that the glow will stick, so the lamp will still have the same colour glow the next time you turn it on - but you can of course change the glow again if you you want a different one.
In the best of worlds the colour of the light the lamp emits would change to match the lamp recol, but that's above my current modding level (I know it can be done, but I'm no Numenor), so no matter what mood your plumb bob lamp is in it will still have the same, yellowish light, like in the picture with the Sim.
Filesize 153.4 KB | File Name PlumbBobLamp.zip | # of Downloads 3,091
---
Comments

Mine.
Mine, mine, mine, mine, mine!! All mine!
* mustluvcatz hears distant grumbles
Fine! Seeing as it
is
the season to be all jolly and nice and all that other non-Grinchy stuff, I'll share. But don't get used to it!