Bouncinator 3000 and Dangle Monster - Less Bladder Tantrum.


Bouncinator 3000 and Dangle Monster - Less Bladder Tantrum.
Uploader:

RebaLynn1960
When Maxis first offered the Dangle Monster, and the Bouncinator 3000, they were welcome additions to the game. The only problem I had with them is that babies would start crying when their bladder reached -50. This meant they would cry for several sim hours before needing a change.

Since you can't take babies to the potty, I thought this was a bit excessive. For my game I modded these items so that the tantrum starts at -90. This, in my opinion, gives you plenty of time to notice, and get ready to change them.

Since these were Sims 2 store items, I did not want to upload them, but since the Sims 2 store has now been shut down for good, I can no longer see a reason to keep them to myself.

With that in mind ...

RLM-productions proudly presents ... The Maxis made, Dangle Monster, and Bouncinator 3000, with less bladder tantrum.

---------------------------------------------------------------------------------

If you have these already, you will need to either replace them, or make sure these load after the originals.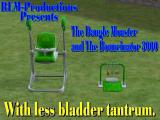 Filesize 5.8 MB | File Name RLMP_BounceChair-DangleMonster_LessBladderTantrum.zip | # of Downloads 7,005
---
Comments

No worries. It's been busy for me too

I've got a few more uploads in the works for next year.
Are these from a fixed and cleaned up version? I know most things from the store had some kind of issues or were sloppy files.

Do they have working sounds? I know there was a version of these circulating that at least one couldn't play its sounds.