Reflective Pride Medicine Cabinet Recolours

The Reflective Pride Medicine Cabinet now comes in Black, Bone and Olive, to match the K&B 'Face Bowl by Sleek Sensations' and 'Little Footprints Toilet by Sleek Sensations'. (BTW I would love a bath to match that sink, if anyone knows of one or would like to make one let me know please.)
They can be found in Buy Mode > Decorative > Miscellaneous for §280.
Find the 'Fancifully Finicky Fronds' recolour used in my screenshot
HERE
.
All files have been compressed and tested in game.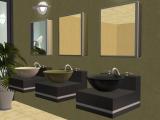 Filesize 98.36 KB | File Name ReflectivePrideMedicineCabinet-ByMichelle.zip | # of Downloads 543
---
Comments

Gorgeous. I hope someone takes you up - it would be a gorgeous bath.

Very nice! Now my Sims can have bathrooms that truly matches.

Thank you!
Bathtubs aren't my thing (as in, I've never tried to make one and don't know how badly I'd mess it up), but I too hope someone takes you up on it, because it sounds like a great idea!
* NixNivis wonders if @mustluvcatz makes bathtubs...