Geometric Pattern Set 2


This is the second of nine sets of Geometric Pattern Sets I am currently working on. There are 5 unique patterns per set, each having a small version, 10 patterns in total.
I have used quite subtle default colors for this set. But each pattern has two recolorable channels, which will enable to you to color with your own palettes.
I have attached below. Sims3Pack Files, Package Files and a Combined Package File. Just download the one you want.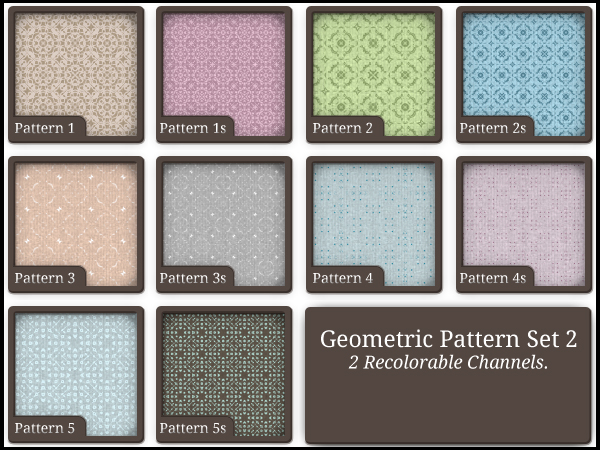 Filesize 2.44 MB | File Name SAILFINDRAGON_GeometricPatternSet2Package_SIMS3.zip | # of Downloads 103
---
Filesize 2.11 MB | File Name SAILFINDRAGON_GeometricPatternSet2Sims3Pack_SIMS3.zip | # of Downloads 53
---
Filesize 2.49 MB | File Name SAILFINDRAGON_GeometricPatternSet2COMBPackage_SIMS3.zip | # of Downloads 75
---
Comments
There are no comments yet. Be the first to add one.