SimWardrobe's Magazine Rack, Coffee Table & Chair Recoloured

SimWardrobe's Andrew Jackson End Table, Circular Stool & Magazine Rack recoloured in AL Wood colours. Many thanks to amythestfenix for the 3 extra wood colour. I would also like to thank celebkiriedhel for sharing these meshes.
Bonus:
With the permission from celebkiriedhel I have included a Free Time Compatible Magazine Rack MESH and RECOLOURS.
The MESHES are not included, you will need to get the Andrew Jackson End Table HERE, Circular Stool HERE and Magazine Rack HERE.
AndrewJacksonEndTable found in Buy Mode > Surfaces > Coffee Tables. Price §400. CircularStool found in Buy Mode > Comfort > Dining Chairs. Price §900. Magazine Rack found in Buy Mode > Hobbies > Knowledge. Price §100.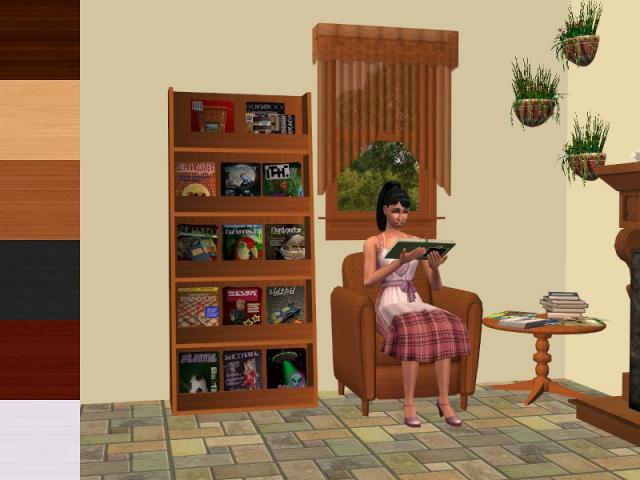 All files have been compressed and checked in game. Colour chart and links to the MESHES are included in the zip file.
Filesize 1.6 MB | File Name SimWardrobe_AndrewJacksonEndTable-CircularStool_01-MagazineRack_01-ALWoodColours-ByMichelle.zip | # of Downloads 192
---
Filesize 1.35 MB | File Name SimWardrobe_MagazineRack_01-FT-ALWoodColours-ByMichelle.zip | # of Downloads 274
---
Comments

Thank you so much; these are wonderful! I will use this a lot