A few old contest pics...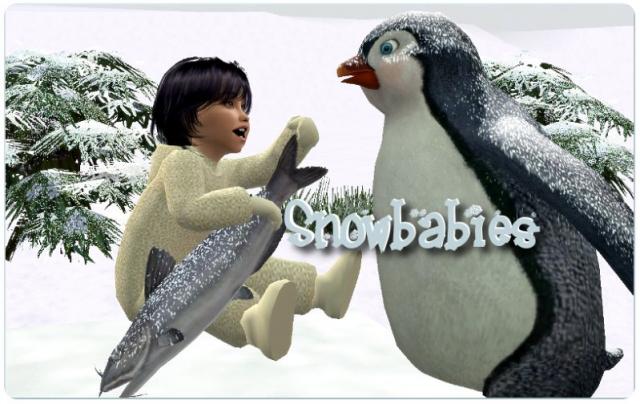 I hope you all don't mind if I share a few of my fave contest pics I did, in no certain order, either as contest banners or an entry...ones that, dare I say, I am proud of.

The first one here is an old pic I took a few years ago for a contest banner. It's another toddler pic, one I have always loved...that came together alot easier than I imagined.
The little girl is Cassandra and I had her mother go fishing so I could hopefully lure a penguin onto the lot with a fish, and after the penguin showed up, the fish nicely fit into Cassandra's hands. Her reaction to the penguins was real.

The second one I put it together, worked my butt off in fact, to show it as an example for a contest I also hosted that was to recapture movie posters in the sims2 game. It's a sims 2 recapture from the movie Homeward Bound...all put together ingame..with the exception that I first took the pic of the animals on the log (painstakingly using OMSPs), then a second one of them on the ground..then layered the two pics together.
The third one is part of an entry for a pets contest..a sims2 version of my rl cat Mexi.

Comments

Oh Dominie these have made me laugh

I particularly like the cat picture, reminds me of my puss Pepsi, who was very adept at catching stuff, sadly his sister is hopeless!
Oh and I love the three stooges together

Although all the pics are great, the Homeward Bound one is just jawdropping, the amount of time that must have taken, building the lot, creating the animals, doing the poses. A real labour of love - but it IS wow. This is a great set of pics and you are justifiably proud of all of them.

Aww they're so cute. My fave is definitely the second pic, that one's fantastic.