Mid Century Chair Recolours

Not too long ago LeeFish uploaded a conversion of the TS3 Awesims Living Chair. But it only came with one recolour. Not any more......
Amythestfenix has made 6 wood recolours and 14 seat recolours for the chair - and the good news is that they also work on the Modular Sofa that has just gone up on MTS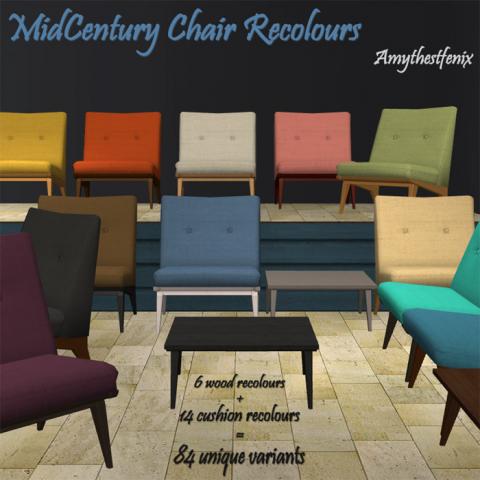 Wood recolours:
Maxis match in black, cherry, light wood medium wood, darkwood and white
Chair recolours:
Aqua, asparagus, beachsand, cardinal, coral, dove, gold, ink, pansy, pumpkin, rootbeer , hangten-maverick, turquoise and twilight
You can get the chair and the little sidetable (not on MTS) here on LeeFish
CLICK HERE

Filesize 1.53 MB | File Name Mid Century Recolors(2).zip | # of Downloads 1,940
---
Comments
(20-07-2010 11:47 AM)

bluefish Wrote: the download link don't work
Hi Bluefish - at which point does it not work? You click download - press accept. It takes you to mediafire, you download. Which part does not work for you?
Lee
EDIT: I realise now that that looks a bit grumpy - sorry. Just wanting more detail so I can help you out.