More Stuff Recoloured in Lack Colours

**

Edited to correct a small problem with the 'VIKA/HYTTAN Table', zip file 2 replaced.

**
Zip file 1
contains LACK recolours of the BENNO CD Tower (you will need
HugeLunatic's 'IKEA Benno CD Tower Repository Fix'
for the colours to show up on all 3 BENNO CD Towers), BILLY Bookcase, CyberChronometer Alarm Clock, EXPIDIT TV Storage Unit (also has black & white storage boxes not pictured), FREDRIK Workstation, HELMER Drawer Unit on Castors, IKEA PS Cabinet, Independent Expressions Inc. Easel, JULES Visitors Chair & RAKET Table Easel.
Zip file 2
contains LACK Recolours of the EKTORP Three Seater Sofa (you will need
HugeLunatic's 'Ektorp - Sofa now repository for Chair and Loveseat'
for the colours to show up on the two seat sofa and armchair), IMFORMS Coffee Table, LEKSVIK Coffee Table & VIKA/HYTTAN Table.
Not all items come in all colours as some are already in game. BTW, I'm not listing where all items can be found and the prices, I don't want to spend the rest of the night typing.
Anyone who likes Ikea stuff has to check out HugeLunatic's IKEA Extras HERE also 'HEMNES Add-ons by shakeshaft' Slaved by mustluvcatz HERE.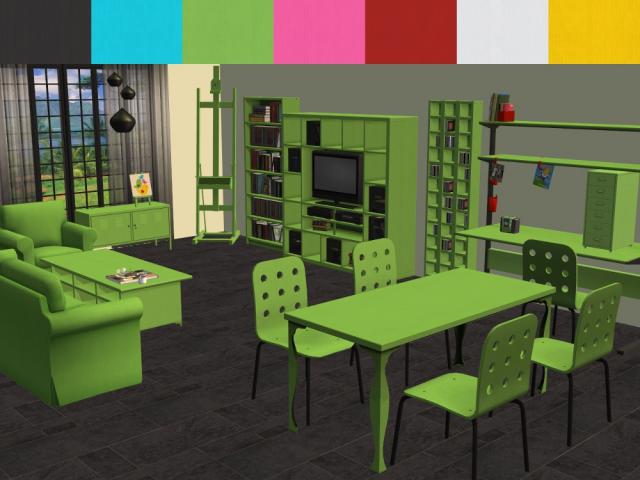 Items used in my screenshots
Fjodsnord Tiered Shelves by Honeywell
,
Pocci's DewDrop lamp Recolours by Mustluvcatz
,
Contempo Curtain by HugeLunatic
,
Melaka Plants by Moune
,
Craftsman Windows Expansion Set by tbudget
&
XM Sims Deco Magazine
.
All files have been compressed and checked in game. Colour charts are included in the zip files.
Filesize 2.59 MB | File Name Ikea Stuff-LACK Colours-1-ByMichelle.zip | # of Downloads 617
---
Filesize 1.65 MB | File Name Ikea Stuff-LACK Colours-2-ByMichelle.zip | # of Downloads 577
File Updated 04-08-2013
---
Comments

The new thumbnail looks great, as do all the recolours. Thanks, Michelle!