Baby Outfits for Girls Only

Artemida made girls-only versions of a whole bunch of fakepeeps' baby outfits. (Well actually Saya94 made the first and Artemida did the rest.) Links to both Saya's and fakepeeps' original versions are in Artemida's post.

What does this mean? You can now have different baby outfits for boys and girls! Just get one of fakepeeps' original colours for the boys, and one of Artemida/Saya's colours for the girls and voilà - your baby boys and girls will have different outfits.

You can still only have one outfit for all the boys in your game and one outfit for all the girls in your game, of course.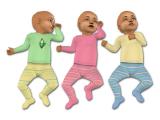 Comments

Wonderful, these were always some of my favourite baby clothes.