Loafville Community Center

Loafville Community Center is the place to be for all your upper-class simmies. Work out in the gym upstairs which is filled with the most modern equipment, rest in the high-end spa with a well-deserved cocktail afterwards and play around with your fellow socialite friends in the pool. The spacious lockerrooms are located downstairs. Change into your favourite yogapants or put on a bathrobe when you are just here for a spa day. Looking to lose a couple of kilos/pounds/stone or even more? Upstairs, you can find some nice technologically advanced gym equipment. A spinning class is organized every hour, the instructor even has his own podium to fully motivated you to hit those pedals! Those aching muscles are in need of some relaxation! Let yourself immerse in the warm water of our hot-tub, which has the coolest steamer/bubble-effects! Let's be honest, at the end of the day, this high-end community center is all about seeing and being seen. Grab a drink from the bar, take it outside and enjoy the social chit-chat. Tired from all the networking, socializing and working out? Take a dive in the pool and let go of all the stress!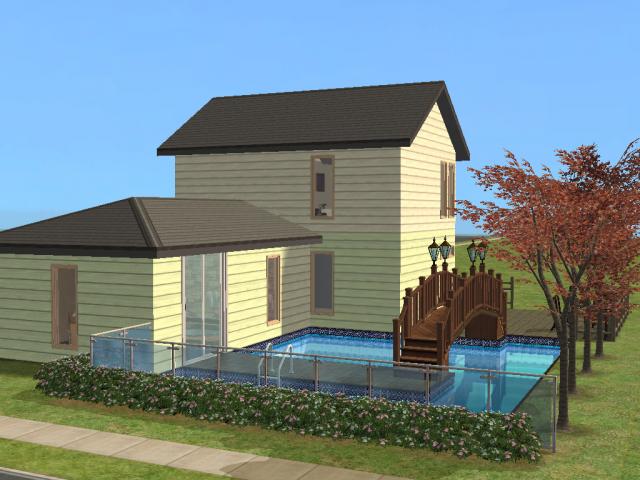 Facilities:
- Lockerrooms with public toilets and showers
- Gym equipment
- Hottub
- Bar
- Outdoor pool
- Outside seating area
This lot is a rebuild of the one I have made for Loaf's 'It takes a village'-contest. Thanks to Loaf for hosting the contest and the judges for providing feedback.
Filesize 3.03 MB | File Name LoafVilleCommunityCenterbyKlaartje.zip | # of Downloads 45
---
Comments

This looks really good Klaartje. I like the podium for the gym instructor too


Gorgeous. I love the bridge across the pool too!

Aww, this place is so cute! I adore the bridge over the pool and the bar in the hottub area. It looks like it would play well too. Thanks for sharing!