Scuba Present for Esme -The High Street


Scuba Present for Esme -The High Street
Uploader:

joandsarah
This is the High Street lot I built for Esme's Secret Scuba present.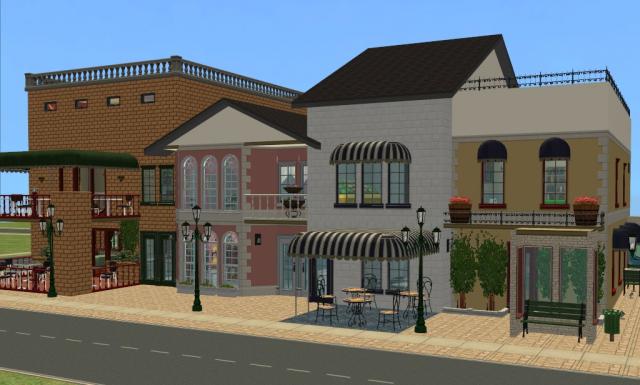 O'Reilly's pub and nightclub on the left has good food and drink. Stay and play pool or cards, or go upstairs to the nightclub. You know it's truly tacky with the photo-booth and light up flamingos.
Next door is Katrina's fashion and salon. Well known for her female fashions, the best kept secret is she also stocks exclusive menswear. Upstairs enjoy a beauty treatment or relax awhile in the plant sim room at no extra cost.
Walking along you come to the Blue Pear Cafe where the cakes are made fresh daily by Franco and the coffee is piping hot. Upstairs is Franco's kitchen and fresh produce.
At the end of the row is Belinda's Books. technically this is a library with an upstairs children's play area and reading nook.
Due to EA coding the restaurant booths are unusable without a curtain fix by Leefish found here:
http://www.moreawesomethanyou.com/smf/in...#msg541955
Another solution would be to remove the curtains.
The cake is game cake and can only be removed with move objects and a sledge hammer- the cake is stubborn.
The screenshots were taken in a full ep game to add ceilings to the photos. The actual lot file was made in a Seasons AGS game to be Mac compatible and has no ceilings.
Filesize 830.83 KB | File Name The High Street.rar | # of Downloads 126
---