Bit of fun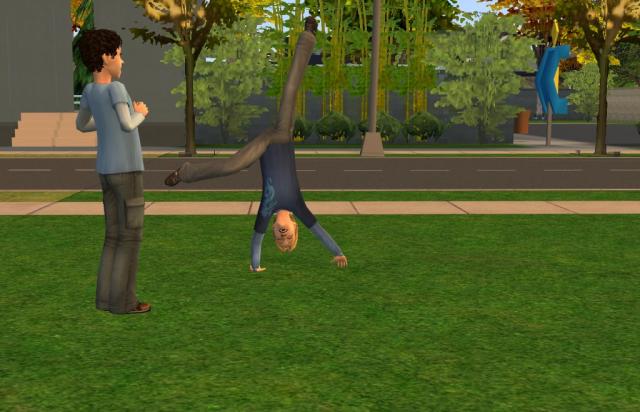 Have sat down and played the game for the first time in a long time today!
Decided to start off in Pleasentville, using Brandi Broke, her troubled teen Dustin, and other child Beau, plus she was pregnant with another which came as a bit of a surprise! To make a long story short, Brandi fell in love with Juan Reamon, who turned out to have a bit of money and was one promotion of becomming a CEO, so Brandi is not so broke anymore, Dustin soon buckled down with having a good father figure and Beau got the much wanted younger brother Mitchel. And they love playing together, so had to get some action shots! First Dustin had to show off and do soem cartwheels. Then Mitchel started blowing bubbles, which I had no idea there was an option for!! While Mitchel was blowing bubbles Beau started off by drinking them, you wouldnt think he was an A+ student wouldnt you!! The Reamon/Brokes are in the middle of renevating their new house, they had to upsize as Brandi is again Pregnant and she's kinda hoping for a girl with all the testosterone floating round! Keep you posted!
Comments

Ah, you moved them! Yeah, then I see how Dustin would finally be worth his salt. Nice to see another side to the Brokes for once.

Sweet! I'll have to give them a play too. I was really gonna start playing... but, building/creating is sooooo much fun - that's all I end up doing.
Good on you, Tiff - for playing


Still end up spending half the time building though!! Thats why I thought instead of cheating and doing the motherlode cheat over and ove Im going to renovate as the money comes in!! Poor Dustin has been meant to have his room sorted since they first moved in and all he has still is just a bed! Off to collage soon so looks like he wont get what he wants! Kitchen is looking good though lol!