Scuba present for Karen Lorraine


These are the posters I made for Karen Lorraine for the Secret Scuba event. A little fishy told me that Karen liked Baroque music, such as Mozart, Bach, Handel, and so on. Originally, I was planning an giant elaborate set of Mozart posters, but do you know, nobody in the Sims 2 community has made a suit of feathers with a giant birdcage welded on the back of it? Tsk tsk. So instead you get three posters of
The Marriage of Figaro
(one full-body and two with close-ups but different color text), one each for the
Water Music
,
Music for the Royal Fireworks
, and
The Messiah
, and four for the
Goldberg Variations
. Fittingly, the
Goldberg Variations
posters are all variations on the same theme.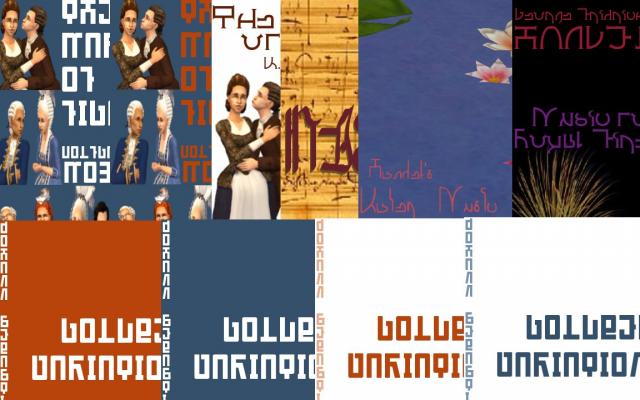 When a date and location is included in the poster, the date is "18 May," and the location is "Leefish Auditorium."
Tech Specs
These are all on the Pineapple mesh from NL, found in the Wall Hangings category, with the same polycount as the original. I chose the Pineapple mesh because it's contemporary, and Karen likes contemporary design. Also, it has several slaved variations, like these here:
http://curiousb.dreamwidth.org/21237.html
http://grobpodriguje.livejournal.com/2987.html
http://www.digitalperversion.net/gardeno...opic=16796
Also included are the original pngs, in case you think they would look better on a different mesh. They are sized to fit the Pineapple mesh, but that's what Photoshop is for, right?
Credits
I can't make recolors -- only images -- so the fantabulous and most wonderful Kiri took my images and put them on the Pineapple mesh for me. She did it in less than an hour, and after I'd called her the wrong name, so that is proof positive that she is made of Win.
All images are mine (as in, I took them in game), except for one, which is supposedly a photo of Beethoven's handwritten copy of Handel's score for The Messiah. (I didn't authenticate it myself, you understand.) That picture I got from here:
http://tks.org/HANDEL/Messiah.htm
I used several Simlish fonts. I think they were these:
Filesize 1.98 MB | File Name art-EsmeIolanthe.zip | # of Downloads 47
---
Comments

The paintings are gorgeous and me to a tee, thank you.

I'm glad you like the paintings! (And I'm glad my posts amuse. That is the goal.

)