Room with a View - Build Set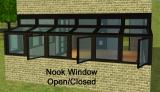 Comments

Tami just posted the window set a bit ago. I'm preparing to go check them all out in game.. like 5 seconds ago.

Forgot to say: I dunno why she - or anyone else - gave me any kind of credit for this set. While I have helped her many times with something, all I did was suggest how to make the windows. HL did, too. I'm pretty sure she didn't go with my suggestion, lol. That said, it looks pretty nifty in the download post. So many pieces! Tami gets major kudos from me for taking that request on.

Edit: No, they're not weather proof.

Guess it's time to get me an invisible floor tile. Other than that, it's a really neat set!