Toddler Month - Pool Lane Dividers (UPDATE:FIXED)


Toddler Month - Pool Lane Dividers (UPDATE:FIXED)
Uploader:

celebkiriedhel
UPDATE:

Many, Many thanks to NixNivis who continues to be my go to person for Bhavs which are my nemesis.
If you downloaded before 30 March 2015, then download

deco-pool-separator-MAS.rar

and let it replace the original. The recolours will work as usual.

If you download after 30 March 2015, then download

pool-lane-dividers-MAS.rar

it has the fixed file in it.

---
Something a little different for toddler month - Pool Lane dividers. I saw some made for Sims 3, and wondered where the Sims 2 ones were. After having a cursory glance - decided to make some.
These are medium to high Poly - single tile F840 V585 (according to SimPE) and need
NIGHTLIFE
- because I've cloned it from a rug.
It goes on the pool and pond without a move cheat. Many thanks to the Fish who is a Duck.

You will find them in DECO/MISC for 50 simoleons.
NOTE:
It sits under the land line, so if you place it on land you're never going to be able to find it again.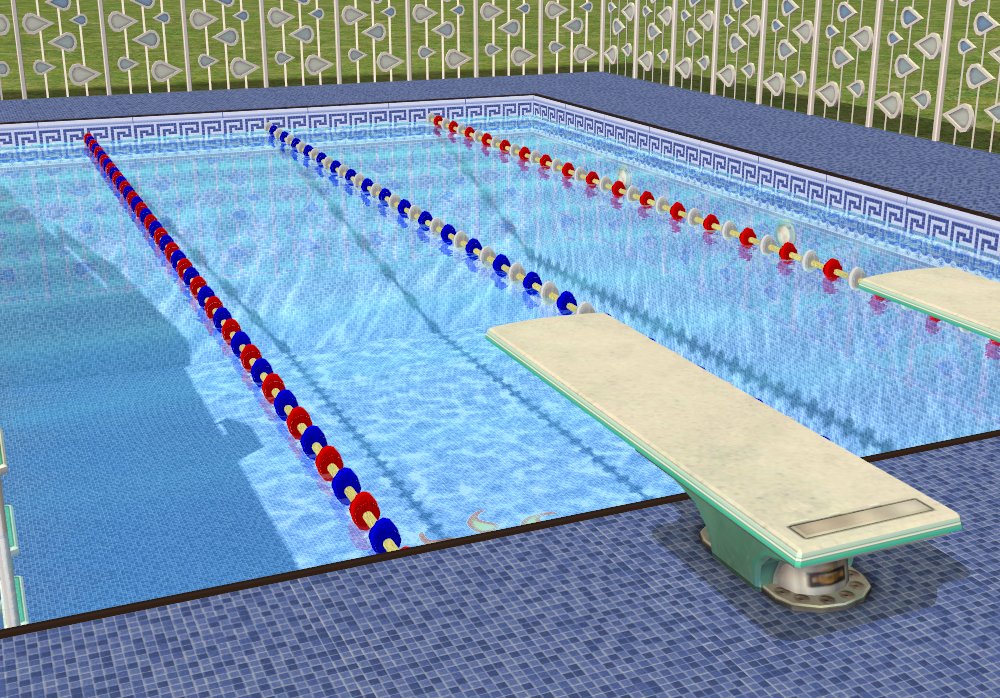 Sims can swim through them, so they are just for show.
This is also my 2nd object made from scratch, so please let me know if there are problems with it.
By the way - It's old school - that is a cork on the rope, and a plastic ring on the cork. the new fancy ones are a bit beyond my capabilities at the moment.
Three Recolours - Red/White, Blue/White/, Red/Blue. Original texture is Orange/Yellow. I've left the rope as a slightly less than primary yellow. But it can be recoloured.
Credits:
The Fish who is a Duck - lee for helping me suss it out.
NixNivis for helping me out with the whole putting bhav's back in to the object thing.
Filesize 66.87 KB | File Name pool-lane-dividers-MAS.rar | # of Downloads 725
File Updated 30-03-2015
---
Filesize 22.66 KB | File Name deco-pool-separator-MAS.rar | # of Downloads 323
---