Dillman's Grove - The Wharf area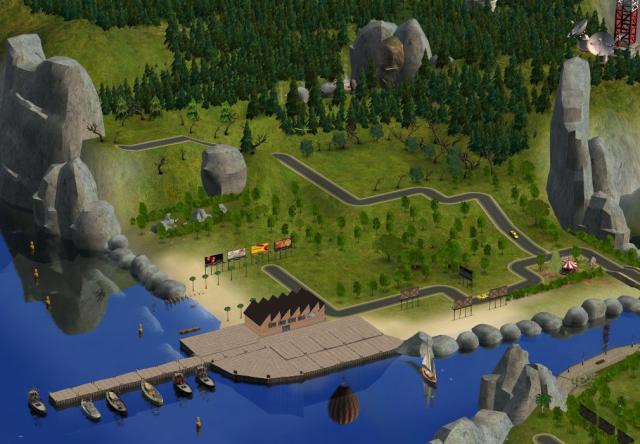 When you're supposed to be sleeping - what do you do? You sort out the Wharf Area of Dillman's Grove. That's what you do!
Used Psychosim's Wharf Set - and finally gave in and left the rocks in the tricky bit.
I'm not completely convinced with it - because there is a large amount of just plain space - where there should be cranes and stuff, but is much better than it was.
I also built a warehouse for the fishes and other stuff to be added, and it also gives the place a feeling of more finished. It's just a shell though, for the look of it.
Looks like I'm going to have to look for more hood deco.
Updated - new picture added.

Thanks to help from lots of peoples pointing me to awesome hood deco.
The cranes turned out to be too big - but they are now on my infinite to do list, to see if they can be shrunk and mildly recatted - the same for the cargo ship.
The shipping containers, and extra deco buildings make this look much better! I've also got a community beach lot next to it, and the residential factory lot - both shells… for the moment.
Comments

Oooh. That is beautiful.
* fanseelamb is starting to get jealous of all these gorgous 'hoods

It's getting there Fansee.

I'm thinking that the only spot that has room for a beach lot is right next to the wharf... So it's going to have to be a grungy sort of seen better days beach lot. With a pier.